This past week in Silverton, several members of the Rigging for Rescue instructor cadre got the unique opportunity to participate in an avalanche rescue course instructed by Swiss avalanche rescue guru Manuel Genswein. It was a "pro" level course designed for ski patrollers, forecasters, and mountain rescue personnel intent on increasing their depth and breadth of knowledge in avalanche rescue.
Manuel comes from a background of electrical engineering and has had a role in designing some of the more innovative avalanche beacons in the industry. When he is instructing on the topic of beacons, it seems as if he has 457 kHz flux lines radiating out of his brain. His command of the material is impressive.
The course focused exclusively on avalanche rescue procedures. This is unique within the realm of avalanche awareness education. Typically, an avy awareness course will cover a wide range of skill sets ranging from beacon use, to snow stability evaluation techniques, as well as decision-making as it relates to skiing or traveling in avalanche prone terrain. All important considerations. However, this course limited the scope of focus to just the rescue side of the problem-solving – i.e. how to shovel more efficiently, multiple burial detection, and a whole host of other topics. It was a superb course and we all felt privileged to be able to attend.
Following the pro course, Manuel put on a recreational course both in Durango as well as Ouray. The rec course in Ouray was co-sponsored by Ouray Mountain Rescue and the same crew of RfR instructors all pitched in to act as volunteer proctors for the day. We had 32 participants attending a free clinic on avalanche rescue. It was a great turnout and participants were glowing about the information they received from one of the top educators in the subject of avalanche rescue.
Following the clinic, we took Manuel up on a short ski tour in the San Juan's. He had a 6am flight to Canada the next morning. Manuel instructs in 27 countries around the world and his techniques have been adopted by the International Commission for Alpine Rescue (IKAR). His educational style and curriculum has a lot of parallels to RfR: critical thinking, systems analysis, and empiricism.
Thank you Manuel for an inspiring week of avalanche rescue education!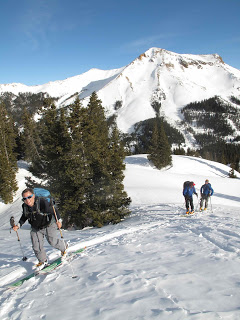 Ski tour on Red Mtn Pass
Manuel with RfR instructors Kevin and Leo