What a fantastic experience I recently had conducting an RfR training on the Faroe Islands in the North Atlantic. The Faroes are located pretty well equidistant between Iceland and Scotland. I was anticipating 'full battle conditions' with the weather, but it turned out to be an incredibly benign week with almost no wind, sunny skies, and mild temps. Quite a treat.
Over the past 12 months, the SAR team there has taken on the supreme challenge of founding a new team from scratch, acquiring equipment, training, and dedicated team members. They were fortunate to get some good guidance from their neighbors at ICE-SAR in Iceland. However, most of the credit goes to them and their commitment to the task at hand.
Hosting a Rigging for Rescue seminar was treated internally as their team graduation week. They had the training scheduled nearly 9 months ago. They now feel skilled and confident in their rope rescue proficiency and in short order will be added to the emergency dispatch system in the Faroes. It was an empowering week for the team members and we at RfR felt honored to play a small role in their ongoing education in the craft of technical rescue.
The week wrapped up with a great party hosted in the galley of a large sailing vessel moored in the harbor of the capital city of Torshavn. What better way to wrap up a week of training than a party on a boat complete with Irish folk songs?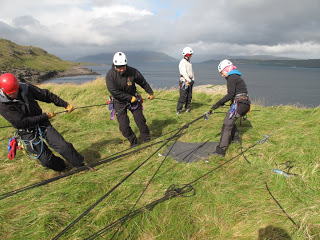 Rescue raises on a scenic sea cliff
Looks like a PMP, but is actually a GEP (Grass Eating Pulley)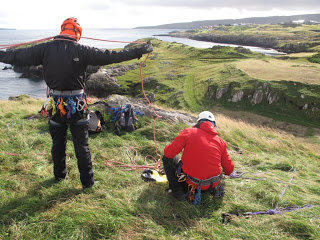 Nice scenery for training if you have the weather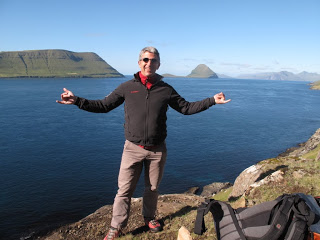 Hang loose Hawai'i? No, the Faroes!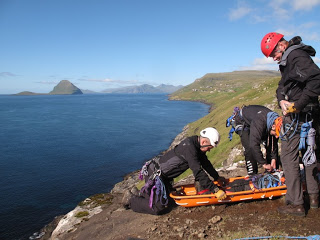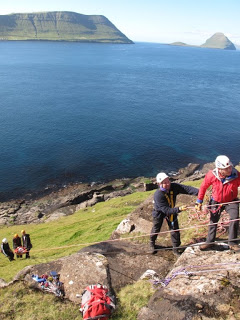 Slope work
Kootenay Highline System
Comparing/contrasting vertical vs. horizontal litter orientation