We recently hosted the
Self Rescue and Small Team Response Workshop
at our base of operations in Ouray, Colorado. This was the second time ever that we have offered this training on an open enrollment basis.
The participant mix was a diverse group consisting of previous RfR attendees as well as some folks new to our training programs; there were firefighters, climbers, and NPS climbing rangers in attendance. Just like any Rigging for Rescue seminar, we conducted a thorough interview process at the outset in order to gather as much information as possible as to what the participants expected and wished to see included in the workshop curriculum. It came as no surprise that the topics and techniques covered in this years workshop deviated appreciably from what was covered in the 2012 workshop. At Rigging for Rescue, it is our unyielding belief that adult education in a technical subject matter needs to be conducted in such a manner that there is flexibility in the curriculum, an inquiry-based methodology to the approach, and plenty of hands-on opportunities.
The workshop followed a progression of:
1. Be able to manage yourself in a high angle environment (ascend; descend)
2. Be able to rescue your partner in a climbing scenario (rescue the second and the leader)
3. Be able to operate in a team-based approach with a minimum of personnel
The initial field scenarios focused on simple belay escapes and transfers of tension. We then progressed into more complex scenarios involving partner rescue in a variety of settings. The highlight came towards the end of the week with the rescue of a leader fall followed by a multi-pitch egress using team-based rescue tactics.
During the final workshop debrief, two of the participants offered that it was the "best course ever" and another weighed in that if you venture into back-country multi-pitch terrain, it should be mandatory to take a class like this one and possess the requisite skills for partner rescue in a climbing scenario.
Below are some photos of our multi-pitch exercise on a spectacular autumn day in the San Juan Mountains near Ouray, Colorado.
Seconding in multi-pitch terrain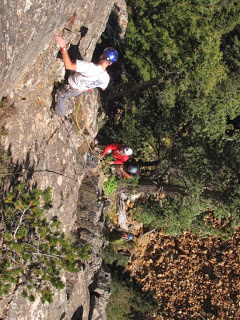 Leading
Rescue the Leader with counter-balance rappel
Ouray, Colorado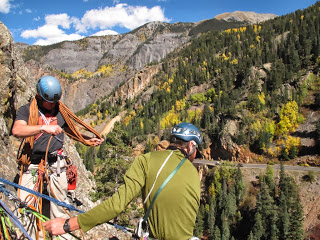 Station management in multi-pitch terrain