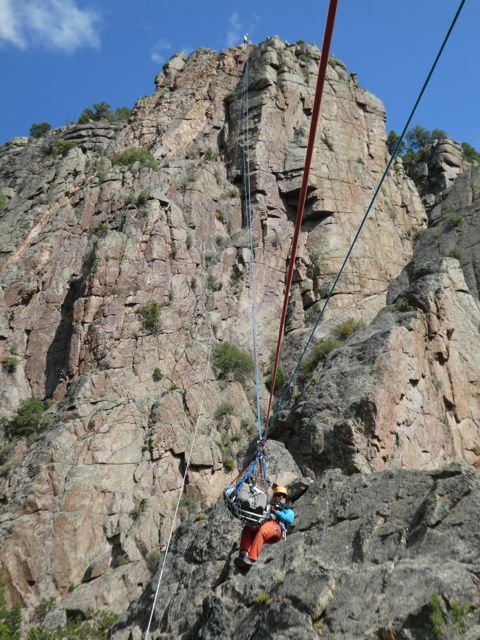 This past weekend 42 SAR personnel from six different organizations converged on the North Rim of the Black Canyon for a much-anticipated rope rescue event.  The principal organizers included RfR and the NPS ranger cadre.  Several other mutual aid teams joined in to participate.
The objectives were to trial some new ingress/egress ideas for moving a patient out of popular climbing/hiking locations in the canyon.  The scale of the Black is very difficult to wrap your mind around for rope rescue. For example, the lower/raise we conducted off of the Debutante's Ball Buttress was a full 400m from the rim. And that only gets you down to the SOB gulley. There are still a few hundred meters of terrain to the river.  The Black is big and complex.
In order to set ourselves up for success on the raise, we spanned a 50m chasm using highline line-delivery techniques. Following completion of the initial attendant 400m lower, we delivered the Main/Belay lines across the 50m chasm to waiting MPD devices. The 50m span ended up being our mechanical advantage "throw" distance for the raising operation.
Concurrently, a separate group rigged and operated a 125m Steep Kootenay Highline System from the canyon rim to the top of the Comic Relief Buttress. We had an "almost" SAR call in this location a couple of years ago and it caused us to reconsider strategies for that egress challenge.
Both scenarios went off without a hitch. It was an inspiring day of camaraderie and technical rope rescue.