On May 18, a long-standing project of Mike Gibbs and Erik Weihenmeyer came to fruition with a successful ascent of Mt Huntington in the Alaska Range via the West Face Couloir route. Erik and Mike were joined by Rigging for Rescue instructor Dave Shuman.
Erik is one of the world's most accomplished blind athletes having successfully ascended Mt Everest, the Seven Summits, kayaked the Grand Canyon, and has competed in numerous expedition length adventure races. Erik and Mike's previous climbing adventures include ascents of the ice climb Polar Circus in Canada as well as Bridalveil Falls near Telluride. This was their first mountaineering trip together.
Huntington involves over 1000 meters of technical climbing up to 90 degree ice and includes the full array of alpine climbing challenges ranging from icefall navigation to ridge climbing and steep ice. An ascent of Huntington by any route is a hallmark achievement in a mountaineering career. We are proud to have been able to play a part in Erik's successful ascent.
Upon return to our basecamp, Erik stated that it was, "the hardest mountain I have ever climbed."
Berg Heil Erik!
Erik pointing out route at Talkeetna Ranger Station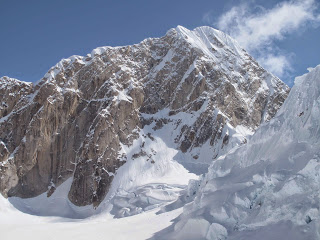 Mt Huntington – West Face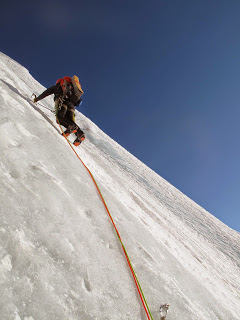 Dave leading steep ice on Day 1
The 'spacious' alcove bivy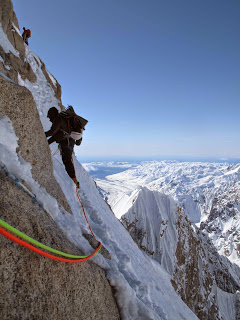 Traversing out of alcove – morning Day 2
Still smiling on Day 2
Erik and Dave on final pitch – Tokositna Glacier below
Erik and Mike on summit – Denali in background