For the past two weeks, Rigging for Rescue's Xander Bianchi has been instructing climbing and rescue techniques at the Khumbu Climbing Center (KCC) in Phortse, Nepal in the Khumbu region near Mt. Everest. Each year, Rigging for Rescue sponsors an instructor in traveling to Nepal to volunteer their expertise to the Sherpa guides and high altitude porters that operate on Everest during the spring climbing season. The Sherpa KCC attendees are often responsible for rescues that occur on Everest. The KCC training center in Phortse is the focal point for Sherpa continuing education programs revolving around climbing and rescue techniques.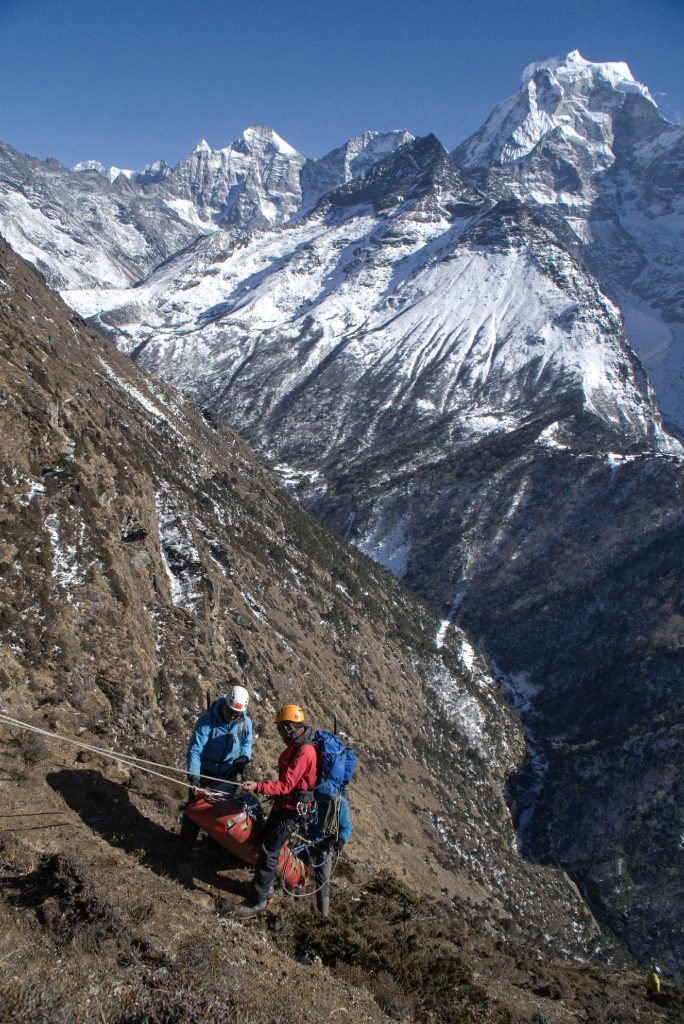 KCC was started through the Alex Lowe Charitable Foundation founded by Alex's widow Jennifer Lowe and his best friend Conrad Anker. Together with many other Westerners working in conjunction with Nepalese Sherpa principals, KCC has developed an annual training program that better prepares the up and coming Sherpa guides and porters for the demands of rescue on Mt Everest. At Rigging for Rescue, we feel very privileged to have been able to offer rescue and climbing training to the Sherpa community for the past several years.
A typical day of training at KCC involves a brief whiteboard discussion followed by a pretty robust hike to the local crags. Some of the terrain utilized is on sunny south facing rock crags and much of the terrain is on moderate waterfall ice climbs located in the valley ascending towards Gokyo. Climber pickoffs, companion rescue skills, litter lowers & raises, anchoring techniques, and rescue principles are all covered during the seminar. The Sherpa climbing community at Phortse and KCC are generous and gracious hosts. The annual KCC rescue training seminar is one of our favorite events of the year and we are already looking forward to 2021.